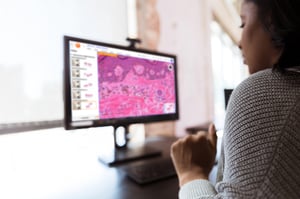 Digital pathology, in one form or another, has been with us for several decades supporting clinical, research and academic applications world-wide. Early use cases for pathology focused primarily on research and teaching. Today, however, whole slide images are playing a larger role in the clinical realm offering remote support for intra-operative procedures, consultations with subspecialty experts and, most recently, primary diagnosis reporting.
The Covid pandemic brought on challenges that none of us never could have previously imagined. To protect ourselves and others, many of us worked from our remote offices in the safety of our own homes. This practice also extended into the field of medicine. Before COVID, the thought of a pathologist reading their slides and rendering diagnoses from a home office would have been unthinkable. CLIA certificates were site specific, and pathologists were required to work from their laboratory office.
That requirement changed on March 26, 2020 when the Centers for Medicare & Medicaid Services (CMS) temporarily waived the requirement for remote locations to have a separate CLIA license. Pathologists could begin to review their slides and sign out cases from their home offices.
Those facilities which had access to digital pathology, either through an FDA approved system or a system validated by their laboratory, experienced a new paradigm for signing out their cases. Pathologists could now access their cases with the slides, patient's history and medical record directly from their remote workstation. Collaborations and consultations could be performed on-line no matter where their colleagues were located. All of the patient's data were there at their fingertips.
As they adjusted to the new workflow, pathologists also realized faster turn-around-time as their cases became immediately available once the cases were complete. They no longer had to wait for slides to be delivered to their offices or retrieve cases from the lab. Furthermore, cases no longer had to be "sent out" for second opinion, saving time and expense. Pathologists could engage with their remote colleagues on-line and share their cases for review. Despite the solitude, they experienced a new level of partnership with their colleagues. Digital pathology offered a new level of interconnection and support for subspecialty expertise, peer reviews and collaborations with multi-disciplinary teams.
The digital pathology evolution has now transitioned into a revolution that is no longer optional moving forward. To maintain a thriving pathology practice, it is not a matter of if a practice goes digital, but when. Today's aging population and the increased number of insured patients due to the Affordable Care Act are putting a greater demand on pathology laboratory services at the same time as the pathologist workforce is decreasing. Going forward pathology practices must increase their efficiency and capacity to be able to continue providing high quality diagnostic services to the patient population.
Digital pathology offers streamlined workflows, improved turn-around-time of diagnosis, and now, more accurate and complete diagnoses with the addition of image analysis tools.
On the horizon, the technology employed with digital pathology will allow automated pre-screening of cases, quantified analysis of tumor markers and more accurate and reproducible measurement tools. Annotations in today's digital pathology software provide for more accurate measurements of key morphologic features in the tissue sections, and these annotations may also be submitted for quantified image analysis.
Corista's DP3™ image management system already provides many of these features and more. Annotation and measurement tools coupled with the ability to collaborate with subspecialist colleagues in real time, no matter where they are located, offer pathologists a more dynamic and efficient workflow. If the laboratory has a subscription with an analytics service or wishes to employ their own algorithms, DP3 has a proven record of integrating with these services to provide immediate access to quantitative image analysis from within the platform.
The challenges in laboratory medicine moving forward are great. Digital pathology will help pathologists meet these challenges by offering a more comprehensive, accurate and efficient service to patients and clinicians.
References
College of American Pathologist, Remote Sign-Out Cases With Digital Pathology FAQs
Digital Pathology Association, Digital Pathology FAQ
Weisburger R. International pathology services: Going digital connects you to the rest of the world: A white paper from Corista. Available from https://corista.com/wp-content/uploads/2019/02/International-Pathology-Services.pdf
Lujan G, Quigley JC, Hartman D, Parwani A, Roehmholdt B, Meter BV, Ardon O, Hanna MG, Kelly D, Sowards C, Montalto M, Bui M, Zarella MD, LaRosa V, Slootweg G, Retamero JA, Lloyd MC, Madory J, Bowman D. Dissecting the business case for adoption and implementation of digital pathology: A white paper from the digital pathology association. J Pathol Inform 2021; 12:17. Available from https://www.jpathinformatics.org/text.asp?2021/12/1/17/313004