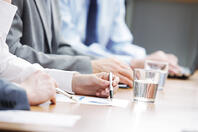 In a previous blog post, we shared key steps to a successful digital pathology system implementation. This is the second article of a two-part series designed to assist you in managing the whole process.
Now that you have completed your project charter, selected your team, and created your timeline, you are ready to begin the work of your project. Today's healthcare professionals are overwhelmed with multiple projects, overbooked calendars and crushing workloads. The success of your implementation will be dependent upon your commitment, a clear project plan and your ability to engage your team's commitment to the success of your project.
Managing the Process
The planning and execution of your project are critical to its success. A project of this scope is likely to take several months to complete. A project plan with clear timeframes and deadlines provides a structure for success.
Draft a Project Plan.
a. The project charter is the first component of your plan.
b. Based upon the milestones specified in your charter, create a detailed task list with due dates and assigned responsibilities. You will revise this list throughout the process as details become more evident, and it may include items such as:
i. Selection and installation of a whole slide scanning device: Your technicians and technologists need to be proficient in obtaining high quality images from your glass slides.
ii. Selection and installation of your server(s): Your IT staff will prove invaluable as they work with your technical staff to create your image library.
iii. Selection and installation of your image management platform, i.e. Corista DP3TM
iv. Definition of your workflow and creation of your lab specific procedures to aid users in the use of the system
c. List the resources that will be required for your project's success. Ability to obtain these resources may account for potential risks for success of your project.
i. Capital resources include devices such as a whole slide scanner and an image server.
ii. Operational resources include user licenses, maintenance agreements, and personnel.
iii. Personnel resources include technical staff responsible for operation of your system and IT staff responsible for setting up the interfaces between your scanners, the server(s) and your communication platform, i.e. Corista DP3TM.
iv. Other considerations include space requirements, networking resources and time.
d. Identify the possible risks for success, and consider how those risks can be mitigated?
i. Consider funding sources and conflicting priorities for management. Are there other major initiatives that could pull resources from your project?
ii. You WILL meet resistance to change. Your pathologist champion needs to be able to support the change AND insist on staff utilization of the system.
e. Identify funding sources. How will the project be funded? What different funding options are available?
i. Capital funding vs. lease options
iii. Special project funding
Define your communication plan.
a. What information needs to be communicated?
i. Meeting agendas and notes
iii. Milestone achievements
b. To whom are you communicating the information?
ii. Stakeholders: Your stakeholders might include key pathologists in your department or with your partners located at other facilities.
iii. Other interested parties: Do you have strategic relationships in your organization that support telemedicine and telehealth projects?
c. Who is responsible for communicating the information? To ensure that others recognize the importance of the information, a person of authority is preferred.
d. In what form are you sending the communications (ex. email, phone, postings)?
e. What is the schedule for sending out communications? You do not want to communicate too frequently or your emails may be ignored. If not frequently enough, others may think your project has become stalled.
Insist on Accountability.

Define the meeting schedule at the start of the process and adhere to it.
The project leader sets the agenda, although input from others is encouraged.
Assign responsibility for project tasks with a timeframe for completion.
Action items, i.e. project assignments, their responsibility & their timeline, should be reviewed at the close of each meeting.
Be Disciplined. Do not get distracted.

Set a meeting schedule and stick to it.
Whenever possible, send the project meeting agenda out to team members two business days in advance. This reminds them of the tasks for which they are responsible and allows them to complete any last minute details.
Keep the project focused. Out of scope items should be placed in a "parking lot" to be addressed at another time.
Document the team's work.

Provide meeting notes regularly documenting the progress reported at the meeting.
Keep your task list up to date. Note completed items, pending items and any delays as well as the reason for any delays.
Report progress regularly to the project team, external stakeholders and other interested parties.
Post updates to keep staff informed of your progress.
Celebrate Your Milestone Achievements!!!
A project of this scope is an ambitious undertaking, but the rewards of success are great. As the utilization of your digital pathology system increases, faculty and staff will gain confidence in the system and in their ability to maximize its potential.
Digital pathology is experiencing explosive growth. By using a systematic approach and standard project management principles, you will position your department and your pathologists to be able to take advantage of all your digital pathology system has to offer.
If you liked this blog post from Robin, sign up for instant notifications of new posts like this one.