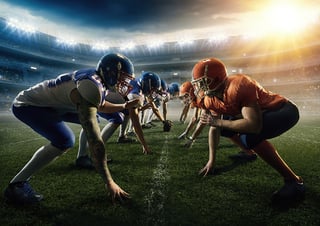 My grandfather was born on Groundhog Day in 1915. If he had not passed away 10 years ago, he would have been 102 this year. Given what he ate, drank and smoked, it is a miracle he lived as long as he did. When I was about 8 or 9 years he told me to "Never bet against Notre Dame football, Joe Louis or the New York Yankees". Today he would have to replace the entries on that list with, among others, the New England Patriots.
During this year's game, how many people went to Netflix or their e-book reader half way through the third quarter? I tweeted that, apparently, the balls were harder to catch when fully inflated and "Go Patriots!"
At 28-3 the odds were against the New England Patriots. Then they scored. Then they missed the extra point. But they kept the Atlanta Falcons from scoring again. They drove down the field, scored, and made the 2-point conversion. They scored again and again and kept Atlanta from scoring any more points, sending the game into overtime. Then they scored again, ending the game on a touchdown where the player fought for every inch of those few yards to the end zone.
I am not a football analyst nor a diehard fan of the Patriots or many of the other teams in the NFL, but sportswriters and broadcasters who cover these games for a living and have done so for decades all wrote and went on TV and radio as early as Sunday night. They were claiming this was the greatest performance in a championship game in any sport by any team and by a single player since we started recording "greatest" things. And perhaps, it was the greatest collapse by a team in a championship game in any sport in the history of recorded modern sports.
Until Sunday night if you were to have this discussion, I think Joe Montana would still be on the top of the list as the "best of all time" for NFL quarterbacks. Today, few would claim anyone other than Tom Brady to be at the top of that list.
Generations ago, why did Notre Dame and the New York Yankees win more than they lost and win championships? Because they had the best players, managers, coaches, owners, scouts, recruiters, diet and exercise personnel. The best of everything, the same reason Clemson, Alabama and Ohio State are in the college playoff discussion year after year.
Is this luck or fate? Of course not. The best organizations in any industry don't quit. They don't mope or groan or complain when they are down by 25 points with less than 25 minutes to play. If you looked at Belichick or Brady it would be hard to tell, as it always is, if they were up 25 or down 25. They put up their best defense and then their best offense. And they did so methodically. 8 yards here. 7 yards there. Not a hail Mary or a 50-yard desperation pass at 3rd and long. First downs. Clock management. And when a player drops a pass, they go right back to him. Again and again. Rather than giving up on his abilities to make the play, they give him a second chance, and he takes advantage of it with perhaps more extra yards after the catch than the actual pass as the Patriots are known to do.
When the Chicago Cubs were down 3-1 in the World Series with the need to win 2 games in Cleveland to win the Series, I almost signed up for the Arizona Diamondbacks Fan Club. The Cubs were not going to rip my heart out and stomp on it anymore. I was going to sell all my Cubs memorabilia, the Fergie Jenkins baseball card, the signed Ryne Sandberg baseball and the Leon Durham signed bat. It was all going on eBay to the lowest bidder with free shipping. I didn't care.
Then I saw an interview with several Cubs players and their manager before Game 5. They had the same monotone voices and flat facial expressions. They were down but not out. They clearly "had their backs against the wall", but they could push the wall further back with a win in Game 5. The whole season they said "one pitch at a time", "one inning at a time", "one game at a time". The rest is history. In the early hours of November 3, 2016, I retained my membership in the Cubs Fan Club and my memorabilia.
Great teams and organizations accomplish great things. In football if you have a winning owner, general manager, coach and quarterback, by working together, you win championships. It has been proven time and again. The Green Bay Packers, Oakland Raiders, 49ers, New York Giants, New England Patriots have put together great organizations over time that can take them to Super bowl victories more times than not. Brady doesn't win without Belichick or the team's management. The Detroit Lions, New York Jets, Arizona Cardinals, Houston Texans, while they have talented players or coaches, they don't have what these winning organizations have. That's why you can't remember the last time any of them were in the Super bowl.
It takes a core group to lead, to execute, to manage and maintain, not get ahead of yourself, grind it out, one down at a time, one pitch at a time, one first down or inning or run at a time.
And perhaps some occasional luck or fate.
Would any of this have been told if Drew Bledsoe did not get hurt when he did or the Patriots did not draft Tom Brady in the 6th round? If there were no untimely penalties and turnovers in the Superbowl, or rain delays after the ninth inning of a Game 7 that turned out to be the best 20 minutes any Cubs fan ever spent looking at an infield tarp, or winning the coin toss in overtime…
Still, you need management to put the right people on the field and to give them the opportunity to succeed. And you need the right players with a chance to make a play, to get to the fourth quarter or the ninth inning in Game 7 to win the championship.
If you don't have that, you are watching rather than making history.