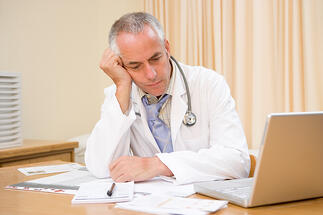 All the recent news about Ebola has likely left no laboratorian unscathed in terms of preparing for the worst – caring for a suspected or confirmed case of the disease - and the necessary laboratory procedures, equipment, disposal and personal protective equipment to consider.
Many of us are likely considering these issues for the first time, or revisiting them if you are one of us who lived through the anthrax attacks of September, 2001. Lab readiness - from safety hoods, to training and resources, have all been called into question. Realistically, most of us do not have the personnel, training or equipment to deal with this type of scenario.
The risk of being called on to provide this service is low for all but a few, but the potential for mishandling such a scenario is high, so all of us are trying to use lessons learned from other hospitals to consider best practices. And if any of you have extra point of care devices or protective equipment, consider yourself fortunate.
This situation, and our collective and individual risk assessment got me thinking: Why is it then when someone considers new technology that could potentially provide tremendous benefit, we stop to ponder all the potential risk without recognizing the potential benefits first?
The risks come in many forms - financial, related to ease of use, technical security issues, patient safety, network safety, or adverse to positive outcomes.

The benefits could address the financial, security, safety and outcome issues but concern will remain regarding potential risks.

While it is statistically more likely you could die from a cow attack over a shark attack, most of us have little idea how to avoid a cow attack and have seen fewer examples in the news.

Isn't it time to consider the benefits of mitigating risk rather than letting a perceived risk of using a technology outweigh its benefits?
If you liked this post from Dr. Keith Kaplan, sign up for our blog to receive instant updates on new posts.