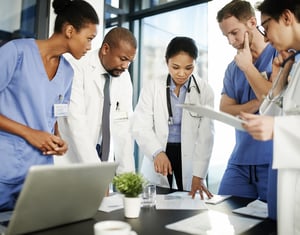 Multidisciplinary Tumor Boards (MTBs) are a standard of practice in all academic medical centers. Studies show that they contribute to improved diagnoses and treatment plans and often lead to improved patient outcomes.1 Moreover, these conferences provide valuable real-life education and training to residents and fellows in all represented disciplines.
Historically, pathologists have encountered unique challenges when participating in MTBs. Even with access to digital images for their presentations, the images are often time consuming to attain and in a static image format. Navigation to other regions of interest within the slide is often not possible, and the patient's case data is usually in a separate lab information system (LIS). Assembling the case, often in Powerpoint, is time consuming, limiting and frustrating.
As hospitals and healthcare practices consolidate and build networks, MTBs are now expanding into the community setting. Patients reap the benefits as experts share their knowledge with each other. These "virtual" teams are taking teleconferencing to new levels, enhancing the quality of patient care everywhere.
MTBs play a role at the global level as well. As an example, the Global Cancer Institute (GCI) hosts Global Tumor Boards each month for breast and gynecologic cancers using Google Hangouts. Doctors in developing countries present their cases to GCI's panel of multidisciplinary experts from US-based medical centers including Johns Hopkins, Stanford University, MD Anderson, Memorial Sloan Kettering, Northwestern Cancer Center and others.2
Key to the success of these conferences is the shared access to patients' clinical information, clinical test results, and pathology and radiology images. When these conferences are conducted with a physician team whose members are separated by geographic distances, information technology resources are critical in achieving this access.3
Corista's DP3

®

facilitates Pathology's contribution to MTBs, improving patient outcomes, both locally and globally.
Corista's Digital Pathology Processing Platform, DP3, provides a comprehensive view of a patient's surgical pathology case displaying whole slide images regardless of the scanner used. The pathologist has access to complete case information as DP3 can interface with any laboratory information system. Gross and frozen section images are also retained with the case for a comprehensive picture of the patient's case.
DP3's Tumor Board module organizes cases by location, tissue type or any other classification of choice. Annotations link directly back to the case for easy access to additional case data and other images that might be of interest.
Images obtained from other facilities or from a patient's previous procedures may be included in the presentation as DP3's viewer is vendor neutral. Gross images and scanned documents may also be attached for easy reference. Tumor Board preparation is simplified and the pathologist presents their case efficiently, navigating easily between annotations, whole slide images and clinical data.
DP3 is highly scalable. With its browser-based access to the platform, it works effectively in a single hospital setting as well as in a multi-facility network spanning towns or continents. The advantages of MTBs, previously limited to academic medical centers, can now be realized by community practices as well as hospitals located in underserved locations throughout the world.
Learn more about how DP3 provides pathologists with the tools to prepare and present their Tumor Board cases with ease within their community and global networks:
References
1, 3. Lesslie, Michele, and Jay R Parikh. "Implementing a Multidisciplinary Tumor Board in the Community Practice Setting." Diagnostics (Basel, Switzerland) vol. 7,4 55. 17 Oct. 2017, doi:10.3390/diagnostics7040055
2. Goss, Paul, PhD, FRCP, MB BCH. Global Cancer Institute. Association of Community Cancer Centers. accc-cancer.org. November–December 2017.