How can a Digital Pathology Platform help you optimize your laboratory operation?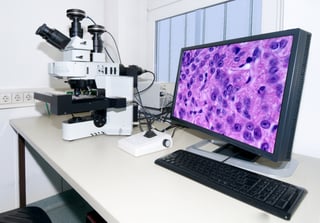 With government payers transitioning from fee-for-service to value-based payment models, optimizing pathologists' and laboratory staff's productive time is now more critical than ever. Pathology and laboratory medicine must quickly provide not only the right answer, but the best answer, the first time, every time.
Reimbursement models have been evolving to support this paradigm shift. For 2017, CMS has proposed a 4% increase to CPT 88360/361, semi-quantitative analysis of immunohistochemistry/using computer-assisted technology. Pathology consultations, CPT 88321 and 88323, are also being reimbursed as secondary interpretations of surgical specimens.
A digital pathology platform in your laboratory offers ready access to your pathology cases anywhere and anytime. You are no longer dependent upon the risky, time-consuming movement of glass slides and paperwork to consult on a case, prepare for tumor board conferences or perform QA. This freedom can result in improved productivity as well as savings from consolidating labs across your healthcare system. Ultimately, with better access to pathology subspecialists, you will likely see improvements in diagnoses.
Moving to whole slide image technology for routine applications may appear complex. You must work simultaneously in the imaging system software and your LIS to access the specimen information, the patient's clinical information, and the whole slide image itself. Furthermore, if your laboratory has used scanning devices from different vendors, you need the proprietary system software for each scanning platform to access their individual images.
Working within multiple systems with multiple scanners can create barriers that deter you from fully taking advantage of your digital pathology platform.
So what's the solution? Implementing an Image Platform coordinating all of this information in one place.
How does a robust image platform simplify your workflow?
Using a platform that can view and manage images from any scanner (scanner agnostic) allows you to retain a slide repository independent of your scanning device(s). An interface between the image platform and your LIS allows case information to be electronically linked to the whole slide images of a case. Slide images and case data are all available within a single system.
With a platform designed to support a collaborative workflow, pathologists can share their cases digitally through the use of private networks, and now, securely through the cloud. Whether for quality assurance activities, intradepartmental consultations, or presentations, you can view and collaborate with your colleagues using the system's instant messaging feature and synchronous viewing capability.
Corista's DP3TM permits this shared viewing of whole slide images regardless of the scanner used, and is integrated with your own LIS. You and your colleagues can now take full advantage of your own digital pathology platform. You can support each other – no matter where you are – for complex case discussions, tumor boards and quality assurance activities.
Your patients can rest assured that they have access to the best diagnostic expertise available. Corista's DP3 enables the flexibility and portability that digital pathology is meant to provide.
References
Brown B, Crapo J. The Key to Transitioning from Fee-for-Service to Value-Based Reimbursement. Health Catalyst 2014.
Ho J, Ahlers SM, Stratman C, Aridor O, Pantanowitz L, Fine JL, et al. Can digital pathology result in cost savings? A financial projection for digital pathology implementation at a large integrated health care organization. J Pathol Inform 2014;5:33.
Lowe, A. Debunked: Digital Pathology Misconceptions. Yes, you can be reimbursed, and no, it won't slow you down. http://laboratory-manager.advanceweb.com/Features/Articles/Debunked-Digital-Pathology-Misconceptions.aspx. 2012.