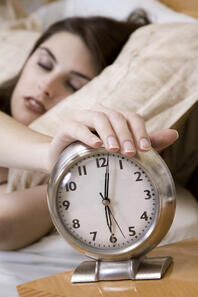 Well, it's not really new. For decades researchers have been linking a lack of sleep, disturbed sleep, or a "night shift" schedule to various health conditions. But as the studies mount, so does evidence that the intuitive link between sleep loss and metabolic disorders is actually becoming provable. A new report released this week in The Lancet Diabetes and Endocrinology Journal pulls together multiple studies that point toward the detrimental effects on health that come with a sleep starved population.
According to the report:
Changes in the activity of neuroendocrine systems seem to be major mediators of the detrimental metabolic effects of insufficient sleep, through favouring neurobehavioural outcomes such as increased appetite, enhanced sensitivity to food stimuli, and, ultimately, a surplus in energy intake. The effect of curtailed sleep on physical activity and energy expenditure is less clear, but changes are unlikely to outweigh increases in food intake.
What's at stake?
✔ Obesity
✔ Diabetes
✔ High blood pressure
✔ Mental acuity
These are serious conditions that can evolve from genetic, environmental, and lifestyle factors that result in poor sleep hygiene.
✔ Shift work
✔ Over dependence on electronic devices like smart phones and tablets
✔ Hormones
✔ Expanded work week
Is sleep the new smoking?
The Lancet report cites multiple studies of nurses, shift workers, and other targeted demographics that form enough collective evidence to recommend that health care professionals start taking preventative action with patients to seek out and treat patients with sleep disorders to prevent the type of metabolic imbalances that lead to heart disease and chronic illnesses.
What can employers such as Hospitals and other companies that use shift workers do to combat the effects of sleep disruption?
More than 20 million Americans work non-traditional hours at night or even a rotating mix of sleep/work shifts. There are high costs to this schedule including:
✔ Depressed immune system that increases the likelihood of getting sick
✔ More susceptible to work-related injuries because of decreased alertness
✔ Negative effects on mood, concentration, reaction time and memory
There is a great article in this UCLA publication that outlines specific steps that employers and workers can take to reduce the negative effects of sleep disruption. Among them:
Work schedules
A schedule that rotates clockwise can be adjusted to more easily. This is a more natural change for your body.This schedule keeps to the following kind of pattern: Day-to-Evening-to-Night-to-Morning-to-Day and so on.
A schedule rotates in a counterclockwise direction is much harder to adjust to, as are shifts that rotate in a random pattern. Studies show that workers are more satisfied, more productive, and less likely to have accidents when shifts are rotated in the most beneficial pattern to workers.
Lengthy cat naps and good nutrition
The UCLA report recommends taking a 90 minute nap just before reporting for a night shift. This creates a higher degree of alertness during the shift. Eating well is another key strategy. It is recommended that shift workers try to eat three regular meals spaced over the course of their "day" and avoid eating their biggest meal of the day and drinking alcohol within 3 hours of bedtime.
Sleep schedules, sleep stimulants, and light therapy
Other strategies to employ include:
✔ Staying on the same sleep schedule even on days off. This is actually true for non-shift workers too. Rotating shift workers should begin to adjust their sleep time before a schedule change.
✔ Sleep stimulants like sleeping pills are a slippery slope and should be used with caution and under a doctor's supervision. They are not recommended as a long-term solution. Nor is melatonin, a popular sleep aid that has shown beneficial effect on conditions like jet lag, but the long term effects of using it regularly are not known.
✔ Studies show that light therapy to mimic natural sunlight cycles shows promise. A sleep specialist can help design a program that meets the individual schedule of workers.
Hospitals, firefighters, law enforcement are just a few of the areas where shift work is prevalent and the consequences of mistakes are high. Helping to create awareness in both supervisors and workers about the dangers of poor sleep hygiene can go a long way in helping the workforce to stay healthy, reducing downtime, and reducing critical errors while on duty.