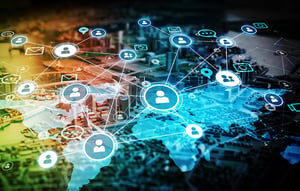 Pathologists have long consulted with their colleagues on difficult cases, and today, with their decreasing numbers and the increase in cancer cases world-wide, the ability to collaborate with colleagues at an international level is key to ensuring patients have access to the best diagnostic expertise available no matter where they are located.
Many large medical centers offer pathology consultation services throughout the US and international communities. In addition to formal consult cases, many pathologists share insights with their colleagues in remote locations, benefitting patients as well as the pathologists who learn from each other in these collaborations.
An advantage of digital pathology is the ease by which pathologists can collaborate with each other whether in a formal consultation or simply sharing insights. Pathologists can share their cases digitally, regardless of distance and obtain their colleague's input without the delays and risks associated with the shipping of glass slides and paperwork and without the need of traveling between locations within a network.
Telemedicine has gained a new dimension. Pathology "tele-consultations" are now improving patient care while optimizing precious resources no matter where the patients and pathologists are located.
Gain access to subspecialists and enhance QA activities
It is nearly impossible to keep abreast with the most current knowledge available across the sweeping expanse of a generalist's practice. As a result, pathology practices have been moving to a subspecialist model in greater numbers. Smaller laboratories, without the resources to have all subspecialties represented or who rely on only a few generalists, must consult with experts elsewhere in their network or with other practices for the expertise needed in difficult cases.
These intra-departmental and inter-institutional consultations are also essential components of a pathology practice's quality management program. Diagnostic accuracy is not only critical for patient safety, it is a key factor in reducing costs and improving inefficiencies within the healthcare system. Errant diagnoses drive up healthcare costs stemming from both unnecessary and delayed care.
Pathologists' collaborations and consultations improve patient care and the bottom line. With the move to value-based payment models, pathology and laboratory medicine must provide, not only the right answer but, the best answer, the first time, every time.
Leverage subspecialty knowledge across a network
With a large faculty, most academic medical centers support a subspecialty practice by developing their expertise internally. However, until recently, community hospitals could only access subspecialty expertise by engaging remote "expert centers" to consult on their most challenging cases.
Community practices are also consolidating, and pathology services are no longer being duplicated within a single network. By aligning with others, community practices can complement each other and collaborate to provide the expertise necessary for their cases. These practices can then keep their patients local, control their costs and offer exceptional service as never before.
Provide expert tele-consultations for facilities outside the network
Pathology laboratories are taking advantage of digital technology to provide their tele-consultations to hospitals outside their network. No longer reliant upon couriers to transport their cases, pathologists can provide their diagnostic expertise quickly and can collaborate with their colleagues anywhere in the world.
Not only does this service bring in revenue, these expert centers are also able to provide their consultation services to remote regions of the world with limited access to a pathologist. Technology has evolved to provide reporting templates and language translation functionality to ensure reports are delivered to the requesting pathologist in their native language.
With the growing shortage of pathologists world wide, tele-consultations are becoming an efficient delivery system for expert diagnostic services.
Our clients prefer an image management system allowing pathologists to broadly collaborate on cases in real time.
Whether between two pathologists, or a team, the ease of sharing a case and its images between colleagues is vital. From within DP3, a pathologist can reach out to virtually any other pathologist to share their case, secure in the knowledge the collaboration is fully secure and limited to the colleague in the discussion.
For external pathologists seeking insights from an expert, access to DP3 is granted after an administrative review. Upon approval, the remote pathologist can submit their case and its images via DP3 to the expert or consulting pathologist's team. The local and remote pathologists can jointly view, annotate and share screen control of the images related to the case being discussed. The referring pathologists are also provided with a Dashboard containing the cases and images they've reviewed along with the collaboration results and Case Report.
Pathologists consulting with colleagues build strong international and US relationships. Real-time, two-way consultations are now easy, fast and efficient. Users can easily upload their cases/images, and reports are generated in minutes.
With the ability to view and maintain images from any open WSI scanning system, pathologists can take full advantage of their digital pathology platform. They now support each other no matter their location for complex case discussions, frozen sections, tumor boards, QA and peer reviews.
Digital pathology offers improved access to subspecialists whether within a network of community practices or with an "expert" center located anywhere in the world. With pathologists accessing whole-slide-images from any open platform and offering workflows that facilitate their use, patients can rest assured that they have access to the best diagnostic expertise available.
References
Dahl, J. (2006). Pathologist Review: Quality, Assurance, Diagnosis, Treatment, and Patient Care. Patient Safety & Quality Healthcare e-newsletter.
https://www.psqh.com/marapr06/pathologist.html
Sarewitz, SJ. (2014) Subspecialization in Community Pathology Practice. Archives of Pathology & Laboratory Medicine. Vol 138, 871-872.
Weisburger, R. (2019) International Pathology Services: Going Digital Connects You to the Rest of the World. Whitepaper.
https://corista.com/wp-content/uploads/2019/02/International-Pathology-Services.pdf