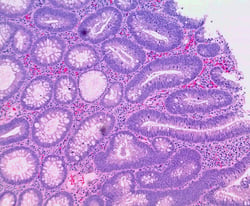 Tubular adenoma with low grade dysplasia
Growing up as an avid member of the 60's TV generation, one of my favorite genres included nature shows. In the years long before YouTube, we often arranged our week to be home in time to watch Marlin Perkins' Mutual of Omaha's Wild Kingdom on Sunday evenings. And of all the spectacular scenery shown, a very specific type of photography captured my imagination – time-lapse video.
You've seen the same amazing footage. It begins with a barren desert that looks almost choked off from life, with the exclusion of a few scraggly cacti and perhaps a plodding reptile or two. Next comes the torrential rainstorm, and a vivid rainbow of breathtaking plants seem to blossom out of nowhere. Clearly, the stunning display was hiding in place all along. With the "magic" of time-lapse photography, we are given the rare opportunity to view the entire picture from start to finish.
Being able to view the entire picture is often significant when following a patient over time. When you are following a case of DCIS through to breast cancer – or prostatic atypia to invasive adenocarcinoma – or atypical polyps through to colonic adenocarcinoma – or a cervical specimen from atypical to abnormal to in-situ carcinoma – it often helps to be able to pull up all chronological images and view them in concert with one another.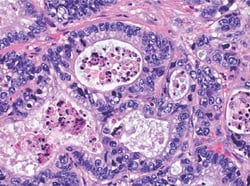 Adenocarcinoma of the colon
While creating a gallery to visually compare morphologic changes over time may be desirable, the logistics can be difficult to accomplish in the glass slide-based lab. Pulling slides dating back over a period of years, some of which may be old enough to have been sent to long-term offsite storage, is a time consuming and often herculean task – not to mention sometimes impossible due to damage or misplacement. And once the slides are finally gathered together (assuming none need their coverslips to be popped off for restaining), whipping each one on and off your microscope's stage to compare morphology can be frustrating.
With the "magic" of digital pathology, not only are all the images of interest immediately available to you, but they are also easily displayed side by side for comparison and documentation of changes over time. This holds true for all your digital images, be they conventional H&Es or special stains, including immuno and molecular ones.
With whole slide digital pathology you view your patient's entire picture – from start to finish – with the push of a button, and the results can be as striking as that desert after a rainstorm.