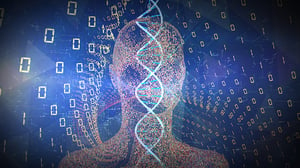 Yogi Berra, the Hall of Fame New York Yankees catcher has famously said "It's tough to make predictions, especially about the future".
The Jetsons had us believing that by 2020 we would have instant food, video phones and flying cars. Two out of three isn't bad. So far. Some innovative folks are working on drone-like vehicles that can sustain human flight. Let's see what happens this year with that.
Ten years ago, digital pathology was leaving infancy and becoming a toddler, learning to walk and run and read and write and communicate. The notion that slide images could be viewed from anywhere, anytime, was still a novel idea, not so much from a technological perspective, but rather from a professional one.
While we could scan slides and make reproducible images identical to a glass slide, the issues of regulation and licensing and reimbursement bringing this into clinical practice were necessary. The past decade has seen that happen. Now, the notion of remote pathology practices, much like radiology has had for years, having primary sign-out, teaching undergraduates to presenting tumor boards, all going completely digital is now a reality.
It seemed bleak 10 years ago. The FDA had to address the issue but wasn't. There wasn't a roadmap for manufacturers to follow, including, but not limited to, the minor fact that the predicate device (microscope) was older than the FDA itself and not regulated by the FDA.
Issues of insurance and reimbursement also took some time to work out before regulators and payers began to understand this was not replacing pathology, but this was pathology!
And I think this is what the roaring 20's will bring for digital pathology – we will not say digital pathology as we have – it will simply be pathology. A medical student will no longer learn on "virtual" slides, but rather slides. Pathology residents won't have to look for programs that are "digital" versus "analog" based. All programs will simply be pathology. When a clinician walks in my office to review a case, he or she will be sitting next to me looking at several monitors rather than across from me through a multi-headed microscope. That device will be in the corner where the water shut off is on the wall and in a space that is not otherwise usable.
Patients won't have their "slides" sent to other institutions as they seek additional opinions, but rather their slides will be seen by the other institutions through shared networks and collaboration. The consent form to have "slides" released will now not require a statement about the potential for loss or breakage.
Tumor boards, teaching conferences and QA meetings will no longer require a microscope on a cart in a dark room with the slides precariously perched on the side. Just as we use the EMR and PACS, we too will be paperless and slideless.
Of course, most of us, before a few years ago, had never heard the terms "machine learning", "deep learning" and "artificial intelligence" in the context of surgical pathology. The next decade, much like the past decade, will see great strides in, at least, computer assisted diagnoses and clinical workflow applications like we have never seen before. This chapter of pathology is still being written.
Several days a week I am in radiology doing immediate assessments on fine needle aspirations to determine adequacy – referred to as rapid on-site evaluation (ROSE). On my way, there is no digital radiology where radiologists try to keep up with the never-ending stream of CT scans, MRIs, mammograms, skeletal x-rays, KUBs, ultrasounds and more. The signs over the door simply say "Radiology".
Most of the folks reading "films" don't remember doing this any different now. I was in medical school when the conversion from film to PACS took place 30 years ago, but the first PACS was available in 1972. Anyone graduating from medical school after 2000 doesn't know the term film-less.
Pathologists will not use the terms "digital", "virtual" or "whole slide" or "slide-less", it will just be "Pathology".
Much like 3-D food, smart watches, drones and robotic help, this is not "Far Out" for pathology. If there was a pathologist on The Jetsons, this would have been included.
As Yogi Berra said, "The future ain't what is use to be". It's better!