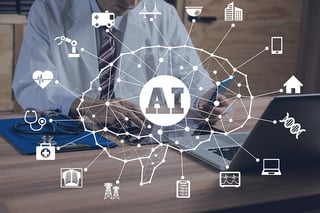 There is a lot of talk currently about artificial intelligence. AI- in short, is the ability for computing systems to be programmed to perform tasks AND to learn from those tasks to refine their abilities the next time a problem or question or decision is faced by the system tasked to perform the operation.
We have all heard about self-driving cars, voice recognition systems, face recognition systems and of course, the use of AI in healthcare, particularly pathology. Many in our industry have taken on the task of programming computers to develop algorithms that will be able to review human pathology slides, detect rare events (isolated micro metastases), areas of de-differentiation or stromal changes within a tumor that may predict biologic behavior or help to automate routine and/or tedious tasks in slide reviews.
And of course, at every meeting and bar discussion on the matter, the topic of AI has raised the concern of computers replacing pathologists. However, those of us within the digital pathology community see it differently. We see AI as a tool that will allow us to do what we do better, faster and cheaper and perhaps improve accuracy over time.
I thought it would be interesting to put this into some perspective, recognizing albeit, that the "systems" I use as examples below are not necessarily "AI" (yet). They do illustrate automation replacing what humans were once required to do, perhaps better, and allow us humans to take on higher order tasks.
Years ago, my mother worked for a major airline company in reservations. Her job included booking and cancelling reservations, checking fares and re-booking passengers. She was also responsible for printing tickets to be mailed to the traveler(s). Her office in suburban Chicago occupied several floors of a large office building with enough wires, I was told as a child, to circle the globe seven times to carry out those functions as well as printing tickets. This system, of course, meant you had to book your ticket far enough in advance to actually get your ticket in the mail. You didn't have to worry about the fare inside of seven days of booking, because you bought the ticket weeks out. I remember many a time when our own tickets hit the mail box the night before we were supposed to leave for O'Hare. Today, automation combined with the Internet has eliminated mailing airplane tickets.
When you get to the airport now, a kiosk, if you didn't already do it on your phone, checks you in and if need be, prints your ticket with seat assignment. Again, that's if you don't already have it on your phone long before you ever left for the airport. Then, you scan your ticket or phone at security and the gate and get on the plane.
Dairy cows have to be milked twice a day. Everyday. No vacations if you are a dairy farmer. Years ago, it was a manual process to collect the milk, store it, get it into a container to be picked up by a truck and then taken to be pasteurized, bottled and distributed to grocery stores.
Today RFID systems and automations in milking, storing, shipping, pasteurizing and bottling mean that more milk is produced with greater efficiency and safety. That gallon of milk in your refrigerator is delivered at twice the speed and at half the cost.
Of course, we like convenience of purchasing tickets on our phone and not paying $6 a gallon for milk.
I think one of the many questions with AI in pathology that will have to be addressed is how will pathologists use all the extra time generating the same or more revenue with assistance from automation? If you think about it, what if AI makes us 20-30% more efficient? Does that mean one day a week off from work? More time to write papers? Or teach? Or perhaps go back to those Wednesdays reserved for golf and meeting with your accountant, usually playing golf?
Or will pathology be further commoditized with price controls with automation. Will reimbursement based on volume remain the same rather than compensation for the increased number of CPTs and RVUs. Will Medicare and private insurers determine a computer is less expensive than a physician and reimburse accordingly?
Or perhaps will the increase in our workload, the aging pathologist population, fewer medical students going into the field and no new residencies on the horizon be offset by automation for those of us replacing the aging pathologists? With AI, we will be able to produce twice the product to balance the greater demand for our services.
It is not a matter if whether we want to use this technology; it is a matter of we must embrace this technology which makes this the perfect time for AI in pathology.