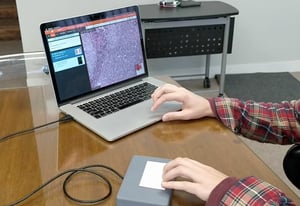 Corista, an integrated pathology solutions leader, has received from the USPTO a Patent Grant for the Virtual Slide Stage (VSS). The VSS is an interface device that greatly improves the ergonomic efficiency of digital slide viewing for pathologists. Use of the device should ease the path to greater adoption of digital pathology platforms, via mitigation of what is now a laborious and physically tiring process when using currently available technology.
Corista's new virtual slide stage allows pathologists to physically work with digital pathology images in a similar manner to the long-established process of traditional glass slide microscopy. "The virtual slide stage essentially allows pathologists to use the same fine motor skills to view digital slides that have been honed for decades with standard microscopy.
One of the barriers to digital pathology acceptance has been the lack of an efficient interface. The VSS solves that problem. With this device, pathologists can be just as productive with digital slides as they are with their standard microscopy practice," said David Wilbur, MD, Corista's chief scientist and a pathologist himself.
"Mainstream adoption of digital pathology has been slow for a number of practical and regulatory reasons. The VSS eliminates a practical barrier. The COVID-19 pandemic has clearly shown the need for remote pathology interpretation and has led to emergency relief for digital methods, lifting a regulatory barrier. This combination could potentially accelerate its wider use," said Corista Founder, President and CEO, Elizabeth Wingard.
In the current environment, digital slide viewing methods use standard interface devices, such as a mouse to navigate. Not being designed for this task, the mouse requires highly repetitive hand movements which can lead to rapid fatigue. Corista's VSS is a desktop platform, about the size of a paperback book.
"The concept came as we started to think about ways we could improve on a standard mouse to imitate the way a pathologist uses a microscope," said Dr. Wilbur. "The virtual slide stage recapitulates that highly efficient process. Where pathologists might have been reluctant to switch to digital interpretation because of the ergonomics, we believe this advancement is going to drive acceptance of digital pathology for daily use."
Corista's new device and the ergonomic improvement it brings to digital pathology may aid in acceptance of remote work, including primary pathology diagnosis. This can help protect the health of pathology staff members during COVID-19 while ensuring continued quality of care to patients.
Currently, the FDA requires clearance of imaging systems for use of digital pathology in primary diagnosis. In addition, the Clinical Laboratories Improvement Amendments (CLIA) restrict interpretation of pathology cases outside CLIA-licensed facilities. Those restrictions effectively ban pathologists from performing primary interpretations remotely.
However, in March of 2020, the Department of Health and Human Services' Centers for Medicare & Medicaid Services issued laboratory guidance that allows pathologists to review slides remotely, including from their homes. The College of American Pathologists also issued COVID-19 remote sign-out guidance in a recent report that included the use of validated digital pathology systems.
"COVID-19 is forcing the medical and regulatory communities to examine ways to combine the advantages of specimen digitization with the connective power of the internet to keep pathologists safe and at work, while safeguarding both the quality of work and the privacy of patient data," Dr. Keith Kaplan, Corista's chief medical officer, said. "This is an opportunity during very different times to herald real change within our specialty."
Corista's DP3 digital pathology platform provides pathologists with a comprehensive view of anatomic pathology workflow by consolidating data and native images into a single dashboard. With its easy-to-use interface, pathologists can quickly view and manage their workloads, while accepting, reviewing and transferring cases regardless of patient or case location.