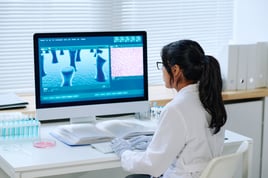 Anatomic Pathology has been experiencing a major paradigm shift over the past several years as digital technology provides new ways of performing the daily work. Changes in workflow are affecting all aspects of pathology, whether clinical, research or education.
The early years of whole-slide-scanning offered academic institutions a way to provide teaching sets, resident collections and publication images without requiring technical staff to perform additional recuts, staining procedures and handling of blocks and slides. While there was indeed clinical utilization of telepathology techniques as far back as 19681, widespread use was limited. Over time, however, the use of telepathology became a way to perform intra-operative consultations, share cases, collaborate and seek clinical opinions from colleagues and outside experts.
Despite these advantages, the past 15 years have seen significant challenges for the field of Pathology. With the trending decrease in pathologists, access to subspecialty expertise is becoming more and more difficult. Between 2007–2017, the number of pathologists in the United States decreased by more than 17%, the largest decrease of all physician specialties tracked by the AAMC workforce survey.2
In addition, there has been a movement over the past few years to more remote practice models. The challenges of COVID saw more pathologists working from home or remote offices. The use of digital pathology helped facilitate this shift along with conferencing tools like Zoom or Teams. Digital pathology and conferencing platforms were often combined and offered new features and functionality for performing the daily work.
Pathologists have now accepted these tools, and digital pathology has become a standard for many workflows. Centers such as Ohio State University Comprehensive Cancer Center saw that digital pathology allowed the maintenance of clinical productivity and improved efficiency of education and research. They fully expect the use of these tools to be sustained following resumption of normal post-Covid activities.3
Collaborating with fellow pathologists on challenging cases is well known to improve the accuracy of pathology diagnoses. With these technologies, pathologists can share their screens and discuss their cases with colleagues no matter where there are located, as well as seek subspecialty advice from experts worldwide. With the increase and advances in applications for digital pathology, utilization of these tools is becoming widespread.
However, there are limitations to conferencing with some of these 3rd party applications. The use of video conferencing tools can take up bandwidth, a limitation for many users, particularly in rural environments. Moreover, screen sharing does not always provide the best resolution for microscopic images.
Up until now, with Corista's Digital Pathology Processing Platform (DP3), colleagues could share access to their cases via the platform through their browser and view the images and case data together using a text chat feature to facilitate discussion among colleagues. Discussions also took place using a conference application or phone line.
However, Corista's latest platform release, v5.11, now offers an audio feature that can be accessed directly from the Virtual Slide Tray during a "Shared View" collaboration. This feature is powered via integration with Agora's voice calling SDK (Software Development Kit) and when implemented, Shared View sessions include audio chat functionality augmented with mute controls. (https://www.agora.io/en/products/voice-call/)
Corista's DP3 comprehensive platform offers pathologists a full suite of tools to meet today's challenges in all aspects of pathology. Real-time, audio discussions can take place with colleagues and collaborators annotating specific features of interest or using analytics to provide further information about their case. Accessing cases on the platform directly via a standard browser offers excellent resolution and audio capabilities.
Today's pathology toolkit is more advanced and offers more functionality than ever, benefitting our patient populations worldwide. Corista is proud to be a leader in this technology.
Weisburger, R. (2019).

International Pathology Services: Going Digital Connects You to the Rest of the World [White paper]. Corista, LLC.

https://corista.wpenginepowered.com/wp-content/uploads/2019/02/International-Pathology-Services.pdf

Metter DM, Colgan TJ, Leung ST, Timmons CF, Park JY. Trends in the US and Canadian Pathologist Workforces From 2007 to 2017. JAMA Netw Open. 2019 May 3;2(5):e194337. doi: 10.1001/jamanetworkopen.2019.4337. PMID: 31150073; PMCID: PMC6547243.

Lujan GM, Savage J, Shana'ah A, Yearsley M, Thomas D, Allenby P, Otero J, Limbach AL, Cui X, Scarl RT, Hardy T, Sheldon J, Plaza JA, Whitaker B, Frankel W, Parwani AV, Li Z. Digital Pathology Initiatives and Experience of a Large Academic Institution During the Coronavirus Disease 2019 (COVID-19) Pandemic. Arch Pathol Lab Med. 2021 Sep 1;145(9):1051-1061. doi: 10.5858/arpa.2020-0715-SA. PMID: 33946103.