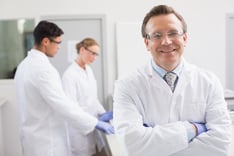 The strains of the last two plus years have forced us to make many changes to our daily routines, both on a personal and a professional level. Remote interactions have become the norm, with families "zooming" for the holidays and family events, elbow bumps instead of hand-shakes, and remote work conferences and meetings in all walks of life. We are all looking forward to the return to many of our previous lifestyles, but the old adage remains true, out of adversity comes opportunity.
Opportunity has certainly emerged in pathology education. In the past two years, our medical students and residents have had to adjust to remote education and training. With surgeries and biopsies canceled or postponed due to staffing and resource issues and with patients postponing their elective procedures and screenings, there are not only fewer pathology cases for residency training, there is far less diversity in the cases received.
Enter – digital pathology.
Digital pathology has been evolving over the past few decades and is gaining in its acceptance for a variety of use cases. With the arrival of the Covid pandemic, it quickly became a tool on all levels whether for remote sign-out of cases, consultation with colleagues or for multi-disciplinary conferences.
With the education and training of a new generation of pathologists, digital solutions have also become invaluable when conducting remote classes or case reviews. Traditional "multi-head sessions" can now be performed with the pathologist and their team of residents, each in their own remote location.
Out of the necessity of having to "physically distance" during training, clear advantages to the use of digital pathology in education have become apparent. Digital educational workflows provide access to unusual cases that can be shared between classes and rotations. Whole slide images can be used for multiple courses without fear of loss or breakage, and their use allows for standardization of materials. Students can even use these images for their "personal collections". Maintaining these cases in a digital environment allows many trainees access to the same cases at the same time, avoiding the "crunch" that inevitably occurs on the day of an unknown conference, when everyone wants to review the same slides in that last hour.
Evaluations of remote learning in Pathology have been published1, and the results have been mostly positive. Students often preferred live interactive lectures over traditional lectures and appreciated greater flexibility in their study time.
There have been obvious downsides to being forced into remote learning activities. Although not an apparent factor in the cited study, students, residents and teachers may deal with variations in connectivity and hardware available to them. More importantly, interpersonal communication can suffer, and the lack of social interaction from a classroom or team environment may create challenges to the learning process and lead to dissatisfaction.
However, moving forward, it is time to permanently incorporate the educational tools offered by a digital pathology platform into training workflows. In a field that is experiencing a worldwide personnel shortage, digital pathology provides tools to engage learners and provide a richer experience no matter where they are located.
Today's image management systems are incorporating digital tools to facilitate learning. Corista's DP3 offers an Education module designed for training programs where instructors create courses and lessons using images from cases that can best demonstrate key concepts. Lessons include the ability to assign questions to the students or residents to facilitate discussion and learning. Self-assessments and challenges can be developed, and concepts easily edited as the science evolves.
Use of whole slide images and digital technology in both learning and performing daily workflows helps dispel the perception that pathology is an "old-fashioned" science. Residents and medical students who have had to rely on digital technology for the past two years will view digital platforms as the norm and a baseline for performing pathology workflows, including diagnostics. Relying on microscopes for day-to-day activities will begin to feel like a thing of the past.
Rodrigues, Maria Aparecida Marchesan et al. "Remote Pathology teaching under the COVID-19 pandemic: Medical students' perceptions." Annals of diagnostic pathology vol. 56 (2022): 151875. doi:10.1016/j.anndiagpath.2021.151875