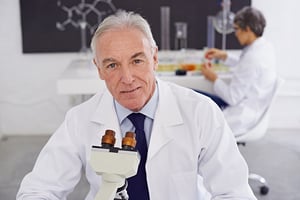 This article is the first in a four part series highlighting the evolution of digital pathology and its impact on the access to pathology services throughout the world.
"In 2012, there were 14 million new cases of cancer reported and 8.2 million cancer-related deaths worldwide. The number of new cancer cases will rise to 22 million within the next two decades."1
With cancer among the leading causes of death worldwide, the demand for pathology services is becoming more critical. However, the number of new pathologists entering the field is decreasing while the projected demands of the patient population are expected to grow by more than 150% over the next 20 years.
Hospital networks are forming to share resources and expertise. Individual sites within these networks are no longer duplicating their pathology services. Instead, pathology labs are consolidating, often with a core lab servicing pathologists located throughout the network.
From a financial perspective, many hospital-based laboratories are also looking to expand their outreach services in an effort to position themselves for long-term viability. These mergers offer economies of scale that can reduce costs and improve service across a system. Coupling these efforts with digital access to specialists in consultative outreach services provides a greater opportunity for increasing a laboratory's market share and improving its chance of survival.
While technology can facilitate these collaborative relationships, on an international scale there are still hurdles to overcome. Telecommunication infrastructures, incompatible software and interoperability issues all pose challenges for creating a global pathology network. Fortunately, technology is also now available to alleviate some of these issues and offer workflows solutions to serve pathologists and patients worldwide.
Worldwide shortage of pathologists
The growing shortage of pathologists worldwide has been well documented in the literature. Africa and Asia have been experiencing this problem for decades.
In China, it is reported that as of 2015 the ratio of pathologists per patient population was estimated to be 1:133,107. In Myanmar, the ratio is estimated to be 1:170,000. Sub-Saharan Africa has at least five countries with no anatomic pathologist at all.2
South Africa has approximately 100 pathologists serving a population of 55 million. Other countries in the Southern African Development Community are in even more dire circumstances. Zimbabwe has only nine pathologists for its population of 13 million, and Mozambique has only four pathologists for its population of 25 million.3
Pathologist shortages have also been reported in Russia, India, Nepal, Israel and parts of Canada.4, 5, 6
"Cancer Research UK" reported that the UK's National Health System cannot keep up with the increasing demand for pathology services. Experts fear that the shortage of pathologists could hamper Britain's ability to improve its identification of early stage cancers.7
In the US, it is projected that by 2030, practicing pathologists will decrease to approximately 3.7 per 100,000. Some of this shortage may be offset with pathologists' assistants who can perform gross examination of tissue specimens thereby freeing up pathologists for microscopic interpretations. However, the growing trend towards sub-specialization may cause an even greater deficit in areas such as pediatric, forensic and neuropathology, all of which are seeing fellowship position vacancy rates of more than 40%.8
Moreover, the pathologist's workload has not eased over time. On the contrary, it has become more complex due to an aging population and corresponding increases in cancer cases. Increased utilization of special studies including immunohistochemistry and molecular testing require more of a pathologist's time to render a final comprehensive diagnosis.
In the United States, Canada and Europe, medical students entering the field cannot keep pace with the rate of retiring pathologists. Meanwhile, the population they serve continues to grow.
With the capacity of the current pathologist workforce decreasing and demands of the patient population increasing, it is inevitable that quality of care and patient safety may suffer with increased turn-around-time of cases and potential diagnostic error.
A global solution is needed to optimize this precious healthcare resource.
Telepathology has long served the international pathology community by facilitating expert reviews of cases in regions where pathologists are in short supply or absent altogether. As imaging technology and the infrastructure for internet communications continue to improve, global pathology services become even more valuable to ensure that each patient's case reaches the best expert in a timely fashion.
This article is the first in a four part series highlighting the evolution of digital pathology and its impact on the access to pathology services throughout the world.
Stay tuned for Part 2: The rise and role of telepathology.
References
https://www.cancer.gov/about-cancer/understanding/statistics
Fleming K, Naidoo M, Wilson M, Flanigan J, Horton S, Kuti M, Looi LM, Price C, Ru K, Ghafur A, Wang J, Lago N. An Essential Pathology Package for Low- and Middle-Income Countries.American Journal of Clinical Pathology. 2017; 147 (1): 15-32.
Schlingman JP. Critical shortage of pathologists in Africa triggers calls for more training programs and incentives to increase the number of skilled histopathologists. Dark Daily. April 29, 2016. http://www.darkdaily.com/critical-shortage-of-pathologists-in-africa-triggers-calls-for-more-training-programs-and-incentives-to-increase-the-number-of-skilled-histopathologists#axzz4fTg5eDkr
McBride M. Severe shortage of pathologists threatens Israel's health system-especially cancer testing. Dark Daily. May 18, 2011.http://www.darkdaily.com/severe-shortage-of-pathologists-threatens-israels-health-system-especially-cancer-testing-51711#axzz4fASuv89g,
Pathologist shortage and delays in lat test reports get publicity in Saskatchewan. Dark Daily. August 15, 2011.http://www.darkdaily.com/pathologist-shortage-and-delays-in-lab-test-reports-get-publicity-in-saskatchewan-081511#axzz4fASuv89g
Tetu B, Evans A. Canadian Licensure for the Use of Digital Pathology for Routine Diagnoses One More Step Toward a New Era of Pathology Practice Without Borders. Archives of Pathology & Laboratory Medicine. March 2014.Vol 138, pp 302-304.
Campbell D. NHD 'struggling to cope' with increase in people undergoing cancer tests. The Guardian, November 22, 2016. https://www.theguardian.com/society/2016/nov/23/nhs-pathology-services-cannot-keep-up-with-increase-cancer-tests?CMP=share_btn_link
Robboy S, Weintraub S, Horvath A, Jensen B, Alexander CB, Fody E, Crawford J, Clark J, Cantor-Weinberg J, Joshi M, Cohen M, Prystowsky M, Bean S, Gupta S, Powell S, Speights, Jr VO, Gross D, Black-Schaffer WS, and additional members of the Workforce Project Work Group (2013) Pathologist Workforce in the United States: I. Development of a Predictive Model to Examine Factors Influencing Supply. Archives of Pathology & Laboratory Medicine. December 2013. Vol. 137, No. 12, pp. 1723-1732.