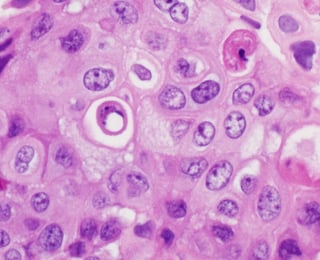 On a recent trip, to present at grand rounds at a well-known midwestern medical school, I noticed a dapper gentleman on my flight. He was wearing a three-piece suit and carrying an impressive attaché case. He stood out among the many travelers dressed in shorts and flip-flops, and who probably wished they hadn't when we reached our destination where the weather was not as friendly.

Ironically, the same gentleman was on my return flight. As we walked through the terminal I asked him if he'd had a good trip. He said that he had, and was being seen at a cancer center where he was receiving what he thought was excellent care. He said, "I have lung cancer." I mentioned I was a pathologist and asked if he would mind my asking what kind of lung cancer. He said he didn't mind at all, but that he didn't know what kind. I inquired whether he knew if it was non-small cell or small cell. Did he know if it was an adeno- or squamous cell carcinoma? He said he did not know, simply that he had smoked for 40 years and had a "spot" on his lung. "What else could it be?"

Actually, a lot of things. There are thick textbooks filled with differentials for lung "spots" or masses. That is precisely why a biopsy is usually performed prior to putting a patient on a toxic chemotherapy regimen. In the event that the mass is actually not cancer, or requires another targeted therapy such as an antifungal for an infectious etiology, unnecessary exposure to chemo can be avoided.

He seemed well educated, but definitively claimed he never had a biopsy, bronchoscopy or fine needle aspiration. No tissue diagnosis – and he was on active chemotherapy. No bronch or CT-guided FNA, no core biopsy of his "spot" and he was on anticancer therapy – IV on site at the cancer center he traveled to, and an oral agent at home.

While I was surprised at no biopsy or other tissue testing, I found a number of friends and colleagues with similar anecdotal stories from well-known cancer centers across the country. Got me to thinking about what the future holds.

While liquid biopsy for primary diagnosis is still years away, there is anecdotal evidence that some centers may treat today without a tissue-based diagnosis. Without looking for it I found several cases of non-tissue based cancer diagnosis occurring at recognized centers of excellence.

Is this "personalized medicine" in "population-based health care"? Is this a cost-cutting measure? Perhaps there are tests being performed from peripheral blood or urine, in addition to radiographic findings, clinical history and symptoms, that are being put through an algorithm to determine the likelihood of malignancy, and treatment is based on this.

As we gain the ability to predict the risk or presence of malignancy – without glass and formalin and xylene and someone looking through a microscope, and with an increase in both sensitivity and specificity – the pathologist's role in health care will change.

Are we ready?