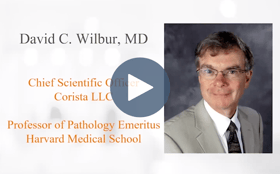 We were privileged to present at the Digital Pathology and AI forum hosted by The Pathologist. In our portion of the forum, Dr. Wilbur focused on how the use cases and workflow solutions of digital pathology compare to those in the clinical environment. Dr. Wilbur focuses on how the use cases and workflow solutions of digital pathology compare to those in the clinical environment. While both of these are well established in the clinical setting, image management systems need some additional features to satisfy the requirements for research. Use cases and workflows are similar in how the user interacts with the digital environment but can be quite different in how they relate to the ultimate task and output.
The most common applications for digital pathology in research include diagnosis adjudication, the development of analytic tools, correlation of test results, merging of database results from a variety of sources and the management of the data itself. Critical to this last item, the data must be stored in a usable format and the data must meet HIPAA compliance standards related to access and confidentiality when utilizing human specimens derived from a clinical archive.
Research workflows include a variety of steps. Case selection for studies or trials can be a manual or an automated process depending upon the level of integration between systems, the number of cases to be included, and the ability of systems to identify appropriate cases. Ideally, cases can come from anywhere whether local, remote or from other image management systems entirely. This breadth of sources highlights the need for the system to be image format agnostic, and able to accept cases from any digital archiveFinally, it is critical that all images are anonymized to protect patient information.
The image navigation at the research digital workstation is very similar to that in the clinical environment, but as the use of analytic tools increases, research workflows may need to include the prescreening of images with machine learning algorithms or the automated selection of cases that require further analysis. Use of annotations can vary depending upon the project, as does the need for pathology diagnosis adjudication. Finally, there is a need for reporting, managing and correlating the data.
Pathology adjudication, or the verification of gold standard results for diagnosis endpoint trials, is one of the most important research applications. In the digital environment, access to images can be controlled based on the research protocol; only investigators needing to see images can be granted access. The whole slide image diagnosis obviates the need for glass slide transport, saving time and money, and it also allows for synchronous on-line conferences between researchers as needed. Finally, the task assignments and their completion can be easily tracked by an administrator.
The process of annotating features within images in a research image management system is similar to that of clinical systems, but the management of the workflow and results can be completely different. Images can be available to all individuals simultaneously for annotating in a synchronous or asynchronous fashion followed by automated capture of results. The ability to provide a quality assurance step is key, especially if the annotations are used for further studies such as analytics or machine learning algorithm development. Crowd-sourcing of annotations is also possible, but it's important to use a verification protocol to confirm reliable results, especially with less controlled annotation sources.
Automated analyses are another benefit of a research system. Whole slide images or preselected annotations can be automatically queued for analysis results review at the workstation and results can be archived automatically in a variety of ways. Results can be viewed within the case using a visual overlay. Numerical results can be stored in a spreadsheet for analysis, and any archived data can be used to correlate with findings from other sources.
The development of companion diagnostics is one example of how research use cases and workflows come together. When drugs or procedures target specific case features, be they molecular, immunologic, morphologic or diagnosis-dependent, those who will benefit from the drug need to have these specific features verified in clinical trials. The identifying tests then need to also be clinically validated. Such tests may require gold standard pathology or morphologic feature results coming from adjudication and the annotation of many cases. The capture and archiving of these results, and the correlation of molecular, immunologic, and clinical results from multiple databases may be required.
In summary, digital pathology has important use cases and workflows that are specific for research settings. Some of these workflows are similar to those used in the clinical arena and some are completely different or even hybrids. Taking advantage of digital workflows in research can increase the efficiency and accuracy of the research process. It can also facilitate administrative tasks such as the access to cases, collation and archiving of investigators' results, and the management and correlation of research data coming from other sources.
Watch our section of the forum to learn where digital pathology and AI factor into your workflows and discover how to expand your current digital offerings.
David C. Wilbur, MD, was the Chief of Cytopathology at Massachusetts General Hospital from 2001 - 2019, a practicing surgical pathologist on the breast and gynecologic services and Professor of Pathology at Harvard Medical School. Dr. Wilbur has authored over 150 scientific papers, was co-editor of the 3rd and 4th editions of Comprehensive Cytopathology, in addition to authoring multiple chapters of the textbook. The College of American Pathologists has awarded Dr. Wilbur with the President's Honor, Lifetime Achievement, and Outstanding Service awards. He is also the Past President of the American Society of Cytopathology and in 2010 received the society's highest accolade – the Papanicolaou Award. Dr. Wilbur retired from MGH in 2019 and remains as Professor of Pathology Emeritus at Harvard Medical School. Dr. Wilbur joined Corista in 2019.