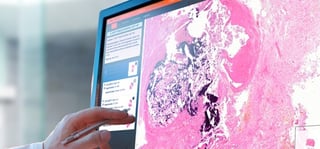 In April, the field of digital pathology achieved a major milestone with the FDA giving clearance to Philips Medical Systems to market its whole slide imaging (WSI) system for primary diagnosis. While a significant step forward, there is still much work to be done before digital pathology (DP) becomes a mainstream technology for clinical use.
No matter how enthusiastic we might be to embrace this technology, a system change of this order will invariably encounter barriers to success.
What might these barriers be?
Perception
Is the quality of whole slide images comparable to glass slides? Despite the literature, there will be skeptics. Similar to the implementation of other new technologies, an internal validation plan is necessary to both meet regulatory requirements and to provide data from your own lab environment as to how these technologies perform side-by-side.
Is managing the imaging service merely replacing one labor cost for another? Understanding your costs before and after implementing WSI will help you answer this question. Perform time studies to evaluate the cost of managing glass as opposed to accessing your image repository. The savings will add up, but you will need documentation to prove it to naysayers.
Cost
While hardware and software costs can be significant, there are several options to bring new technology into your lab. Equipment leases, reagent rental agreements and even special funding sources can supplement your capital resources. Fee-per-test contracts might also be considered if you initially expect low volumes, but know that utilization will increase exponentially once the technology proves its worth.
IT Support
IT support is vital to your success. Your IT team will ensure that you have adequate image storage, robust interfaces, and dependable back-up systems. They will work closely with you and your vendor(s) to integrate your digital pathology system with your lab information system (LIS) and other clinical systems to ensure a comprehensive, uninterrupted service upon which you can rely.
However, IT support is one of the most strained resources in any laboratory department. With multiple priorities and mission critical projects always in the queue, a strong business case will be needed to get your digital pathology project moved to the top of their list.
Resistance to Change
Resistance to change can come from any level. Your colleagues may not be ready to give up their microscopes. Technical staff may not see the value of scanning hundreds of slides into a digital repository each day. Administration may not be convinced of the value of investing into this new workflow.
How to mitigate these barriers?
To provide your team with a clear vision and direction, a paradigm shift of this magnitude necessitates a well thought out plan of action and thoughtful execution.
Communicate your vision
Help your colleagues and laboratory teams understand the benefits of a DP system. Real gains will be seen almost immediately, and as the technology continues to develop, even more exciting opportunities will present themselves. Keep your staff in the know about the exciting work of which they are a part.
Engage all levels of staff
You must engage your colleagues as well as your technical and support teams. The lab, the office and IT should all be represented on the implementation team. When they are convinced that workflows using DP are of value, they will serve as champions for their implementation in the daily work.
Regular meetings
Your implementation team should meet regularly to review your progress, identify action items and hold each other accountable for their execution.
Training & Practice!
Do not underestimate the need for training at all levels. Clear documentation of processes will facilitate your staff's training. Until the teams are performing their tasks on a regular basis, they will need regular support from you and your in-house experts.
Celebrate milestones!
Your implementation of a DP system will take time, and the system will evolve as you and your team recognize the benefits it has to offer. Be sure to celebrate the small achievements that make a difference. Know that you will encounter obstacles, but with planning and teamwork, you will overcome them and will soon be taking advantage of the many opportunities that a digital pathology platform can offer your lab.
How can Corista's Digital Pathology Platform (DP3®) facilitate your move into the digital age?
Corista's DP3 offers a solution that will allow you to view images from any scanner, seamlessly integrating patient data from the LIS which simplifies your daily workflows. You will not be locked into using proprietary software, and you will be able to take advantage of a system that scales according to your changing needs.
Expand your ability to provide or obtain consultative services at local, regional and even international levels with both synchronous and asynchronous viewing options. Maintain private and team-based teaching and research collections.
For more information on how Corista's DP3 can help you move your lab into the digital age, check out our website at www.corista.com.
To learn more about how to successfully implement your digital pathology system, check out our part 1 and part 2 of our two-part blog series.