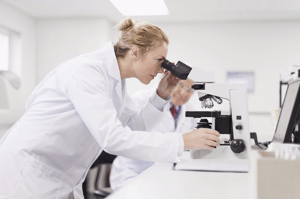 25+ years ago, as a resident, the hard(er) part was looking at the slides and the easy part was writing the report. Before breast conserving therapies, when mastectomies were standard of care, for example, a report might read: "Breast, right, mastectomy: Invasive mammary carcinoma, grade 3, measuring 3.4 cm; deep margin and nipple negative for tumor." With the header, all the necessary elements in the report, the logo, gross description and disclaimers you could get this onto 1 page. And have space left over. With large fonts (the initial MUMPS based laboratory information systems did not give you the option of 500+ font styles and types with bold, italics, etc…)
I appreciated what we produced in surgical pathology was an 8.5 x 11.5 sheet of paper that would guide follow up care and perhaps prevention of recurrent or metastatic disease. Not long before the MUMPS based systems of course we would type the reports (collectively "we" since people who could type were trained to do this on something called "typewriters") with carbon paper between two other sheets of paper. Then we would sign the top report, collect the carbon paper. One copy would go to the clinician who requested the test, one would go to medical records and something happened to the other copy. I am not sure – perhaps it was supposed to go into some fire-retardant file cabinet to maintain for 10 years. Not really any better than an index card system we kept which provided the archival information on a patient. Some patients had a lot of index cards, others had only one for a "Seborrheic Keratosis" or "Ganglion Cyst".
Of course the way we report, archive historical information, store and retrieve that information, write reports and distribute that information has changed. We can even add images to reports and patients now get a "copy" in their patient portals. No more carbon copies (literally) having to be requested from some basement office no one could find.
And of course the practice of medicine has evolved. I recall signing out a lymph node as such "Lymph node, right cervical, biopsy: Hodgkin's disease" or "Kimura's disease". Done. 2 words beyond tissue, site and procedure as standard headers all pathologists are familiar with.
Now…if you sign out a 3 cm lumpectomy or 1 cm lymph node, doing more with less, it is likely the report is multiple pages with multiple additions or addendums to include immunohistochemistry, FISH, molecular, genomics, cytogenetics, risk stratification, chemotherapy sensitivities, flow cytometry or 52-, 70- or 80-gene panels.
Unless your lab actually does all those things, chances are some tests are referred or "sent out". Some IHC may be done "in house" while others are "sent out". Unless you sign out cases at Foundation One, Agendia, OncotypeDx or dozens of others, you will likely be asked to obtain additional information "off the block" once the case is "signed out".
Pretty soon we will have a 12-gene panel for hernia sacs.
Before I can tell a clinician now if the lung biopsy is small cell or non-small cell carcinoma, he/she is asking for ALK1, PD-LI, ROS and EGFR, at a minimum. Sign out a hematolymphoid neoplasm without at least 20 immunos and FISH and molecular and flow – don't even think about it. And we have reports with addendum after addendum after addendum and multiple disparate sources of information that need to be managed into a single repository for viewing and accessible to the clinicians.
There is concern among pathologists that the use of artificial intelligence/machine learning tools will turn pathologists into data managers rather than morphologists.
I don't think we have to worry about that. We already are.
In the past the morphology drove the reporting. Now the morphology drives the ancillary testing which is required for the reporting. Our ability to select the appropriate ancillary testing will be driven by algorithms that can mine data beyond our eyes to data mine further.
The AI will be another source of information just as we have all these other disparate sources of information that need to be collated, beyond addendum after addendum and scanned report after scanned report from other laboratories.
And pathologists, just as we have with reporting more than morphology in recent years, I am confident will adopt this.
The question will be – where do we put this information on the pathology report?