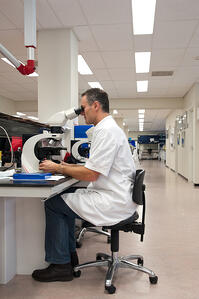 In medical school, the pathologists would come to lecture during second year, and while they had their own subspecialty or research interests, they would often tell us "Pathology is a lot of fun. All of the interesting cases in the hospital wind up under the microscope and you are respected among your peers."
They would go on to say that there were no jobs in pathology and not to go into it. The surgeons would tell us later in clinical years that the worst part about being on call every other night is that you miss half the interesting cases (the cases missed every other night you were presumably not on call). And sometimes the surgeons would admit among the handful of specialties they respected, that pathology was among them.
What the pathologists in med school, (and later in my career for that matter) didn't say after we chose to go into pathology, was that it was important to actually go into the lab and know your staff. Medical directors that direct from their desk are often ineffective leaders, managers, and supervisors. You need to get into the lab, talk to the section supervisors, technologists, and technicians. Often times industry representatives are there as well, servicing an instrument or discussing a new product offering with the folks who will actually perform the testing.
Unfortunately, I learned these lessons after residency. Truth be told, most of my surgical pathology, blood banking, chemistry, serology and microbiology, among other areas, was spent in designated resident cubicles reading about how to run a lab rather than actually doing it. Reading about the latest platforms and tests rather than trying my hand at using it or at least seeing what color the cover was on the box in the lab that performed the test. The take-a-way? Get in the lab.
And also, get out of the lab. Make yourself known in the lab and out of the lab. This doesn't mean attending medical staff meetings and tumor boards making your presence known and fielding questions about turnaround times and staffing from clinicians. It means get out of the lab and out of the building or hospital.
Expand your horizons. Get online and make connections. Your virtual presence and connections will lead to introductions that allow you to make your presence known outside your own laboratory. Engage colleagues in other areas. Discuss the pain points in other specialties i.e. access to specialists, latest technologies, administrative issues or issues with payors/reimbursements. You may find similar concerns and potential shared opportunities to improve your professional satisfaction as well as theirs in the care of patients.
Make industry connections. Introduce yourself to other laboratory service providers, partners, and competitors alike. Partners may become competitors, and competitors partners with the very dynamic changes in the lab market right now.
Familiarize yourself with manufacturers in your area of interest. New technologies without clinical applications, use cases and business models will not be brought to market without input from end users.
Professional associations, committees, advisory boards and consulting opportunities are looking for engaged pathologists. Your experiences here will strengthen what you do in the lab.
The fact is that lessons learned from what you gain outside the lab will enhance what you do in the lab. And the lessons you learn by making yourself a familiar presence within the lab will make you a more effective manager.
If you liked this post from Dr. Keith Kaplan, subscribe to our blog to receive instant notifications of new posts each week.