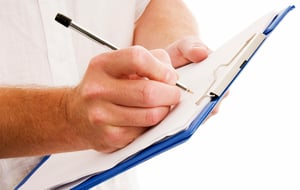 Telepathology and the use of whole slide images (WSI) are becoming accepted in the practice of pathology on a clinical level. While the use of WSI has not been approved for primary diagnosis, it is now a part of any clinical applications such as quality assurance activities, tumor boards and expert reviews.
To that end, regulators for laboratory accreditation acknowledge the role this technology plays in the laboratory and are now assessing telepathology and whole slide imaging activities accordingly. The attention and focus of inspections are similar to all other laboratory services; the critical elements of well-defined policies and procedures, documented training, and system validation are all expected of digital pathology/telepathology services.
How can you ensure readiness for your next laboratory inspection?
Policies and Procedures
Laboratory professionals are well schooled in documenting their policies and procedures for any given task. Make certain your procedures include how you confirm accurate patient identification for your images and patient confidentiality during your procedures.
When using telepathology to perform remote assessments of a specimen, much of your communication is verbal. It is critical to not only document what was said, but also to assure that only the appropriate personnel hear it. Include in the record both availability of clinical information and documentation of how that information contributed to the patient's assessment.
Training
All users of your telepathology system must be trained: from the technologists who scan the original glass slides and assess the quality of the digital images to the cytotechnologists and pathologists who may be reviewing the images. Evidence of their training and annual competency assessment must be on file and up to date.
The process used for training and competency assessment must also be documented and comply with the standards as outlined in the College of American Pathologists (CAP) Laboratory General Checklist.
System Validation
The laboratory must validate its telepathology and whole slide imaging systems to ensure that patient care is not compromised by their utilization. This validation must be performed, and its results must be approved by the laboratory director prior to implementation of the technology for clinical purposes.
CAP provides several guiding principles to the validation process including (from the CAP Laboratory General Checklist 07.28.2015):
Emulation of the "real-world clinical environment"
Validation by a pathologist trained in the use of the system
Assessment of the "concordance" between glass slides and whole slide images
Encompassment of the entire system, including a re-evaluation of the system should significant changes be made
Finally, you must ensure that the system(s) used for managing your images and telepathology service meets the same criteria as other computer based laboratory systems in terms of security, downtime procedures and interface integrity.
Keep all documentation of system validations on hand to share during an inspection, as this is an area of close examination.
Quality Management
The quality of your telepathology service must be measured, and the process for assessing this quality must be included in your laboratory's Quality Management Program. Measures might include WSI to glass slide evaluation concordance rates, case deferral rates or interpretation concordance rate between pathologists. Impact of the WSI process on the turn-around-time of cases compared to cases not imaged is also a valid measure.
On Inspection Day
Planning and preparation in advance of your accreditation inspection is key to a successful assessment. With policies and procedures in place, and easily accessible documentation that proves they are being followed, you should be well prepared when your inspection team arrives.
References
Otelah M. Perry, MS, MT(ASCP), CQPA
College of American Pathologists. 2015. Laboratory General Checklist. CAP Accreditation Program. Revised 07/28/2015.


A successful digital pathology system implementation is dependent upon many factors such as careful planning and commitment. Get the latest guide on how to make your system a successful part of your practice.