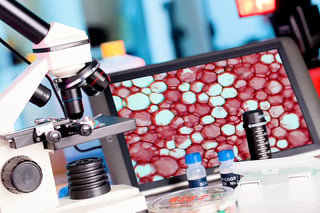 Telepathology and whole slide imaging have become integrated into pathology laboratories worldwide. With applications in teaching and research well established, it is now recognized that digital pathology has a role in the clinical realm as well.
Digital pathology provides clear advantages for pathologists' quality assurance processes and performance evaluations as well as streamlined workflows for consultative expert collaborations and multi-disciplinary tumor boards. With the advancement of artificial intelligence and histopathology analytics, there is no limit to the application of digital techniques to the practice of pathology.
Telepathology has increased its scope to include other laboratory sections and offers advantages to laboratory networks supporting remote sites. Transport of patient specimens, such as glass tissue slides or touch preps, and results data is no longer best accomplished via courier, mail or fax.
The College of American Pathologists (CAP) has recognized these practices as integral to the function of laboratories across the United States. To that end, they revised the August 2016 Laboratory Accreditation Program inspection checklists to reflect the use of these emerging technologies.
Inspection readiness is a theme with all CAP accredited laboratories, and regulators have become more focused on telepathology and whole slide imaging activities over the past several years (see Telepathology and Inspection Readiness, 2015)
In 2015, telepathology checklist requirements, specifically for anatomic pathology and cytopathology, could be found in the "Laboratory Computer Services" checklist. In August 2016, CAP expanded the requirements in this checklist under the heading "Telepathology and Remote Data Assessment".
In addition to anatomic pathology and cytopathology, all laboratory sections that potentially review diagnostic material from a remote location including flow cytometry, molecular pathology, hematopathology, histocompatibility and cytogenetics are now mentioned in regards to how telepathology may be used in their areas. This new checklist section applies to all diagnostic applications performed by telepathology including primary diagnoses, second-opinions, remote FNA assessments and frozen sections.
What's new in the Telepathology and Remote Data Assessment section of the checklist?
This newly titled section of the checklist contains one new question and several revised questions.
The new question speaks specifically to the validation of the laboratory's telepathology system. Validation of the system, for any clinical diagnostic purpose, must be performed prior to implementation of the new technology. This validation requirement is consistent with implementation of new systems throughout the laboratory and is consistent with GEN.52920, Whole Slide Imaging System Validation. Specifically adding the checklist requirement here demonstrates that it now encompasses all telepathology related activities throughout the lab.
The new requirement states:
GEN.50630 Telepathology System Validation Phase I

The laboratory validates telepathology systems used for clinical diagnostic purposes by performing its own validation studies, including approval for use by the laboratory director (or designee who meets CAP director qualifications) before the technology is used for the intended diagnostic purpose(s).1
As with all system validations, the validation process must emulate the "real-world clinical environment", and records of the validation must be retained.
Other requirements in this section involving patient and specimen identification have been revised to include data files as well as images. As the use of telepathology continues to expand into other lab sections, the integrity of these data files must be assured.
Security of data transmission and patient confidentiality are both considered critical elements of laboratory communications, whether for system access or results reporting. GEN.522842, Telepathology and Patient Confidentiality, specifically notes that security procedures must be in place and followed during use of portable mobile devices in public places.2 As they become more commonplace and powerful, additional attention will need to be given to forms of communications on these devices such as texting, personal messaging and similar applications.
Record Retention: Digital Images finally addressed
Record Retention tables have been consolidated in the 2016 checklist, and guidance has now been given regarding the retention of digital images used for primary diagnosis. Digital images used for diagnosis must be retained for 10 years if the original glass slides are not available, see ANP.125003. The CAP goes on to comment that there is no retention requirement if the original slides are available and readable for the required retention period.
Summary
As the use of telepathology expands in the laboratory, regulatory bodies will continue to address how this data must be managed to ensure patient safety. We will continue to see new requirements and revisions to current requirements as the use of whole slide imaging, digital pathology and telepathology applications increase.
Careful attention and planning will help ensure inspection readiness and good laboratory practices.
1,2. College of American Pathologists, 2016. Laboratory General Checklist. CAP Accreditation Program. Revised 08/17/2016.
3. College of American Pathologists, 2016. Anatomic Pathology Checklist. CAP Accreditation Program. Revised 08/17/2016.
Paxton, Anne. New tests, technologies at center of 2016 CAP checklist revamp. CAP Today. August 2016. http://www.captodayonline.com/new-tests-technologies-center-2016-cap-checklist-revamp/
College of American Pathologists, 2015. Laboratory General Checklist. CAP Accreditation Program. Revised 07/28/2015.
College of American Pathologists, 2015. Anatomic Pathology Checklist. CAP Accreditation Program. Revised 07/28/2015.