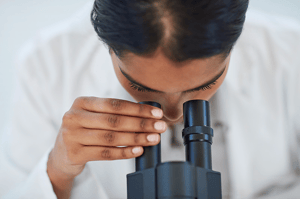 This article is the second in a four part series highlighting the evolution of digital pathology and its impact on the access to pathology services throughout the world. If you missed it, you can find Part 1 here.
Many pathology practices associated with academic medical centers have begun using digital pathology to facilitate the sharing of cases through the use of internet services, private networks, and now, cloud technology. As the use of whole slide imaging (WSI) and digital pathology consultations becomes more widespread, hospitals can access experts in any pathology subspecialty from any location around the globe. Secure, web-based access to expert centers and remote subspecialist colleagues is now a reality.1
One of the earliest clinical uses of telepathology occurred in 1968 between Massachusetts General Hospital and the Logan Airport Medical Station in Boston, Massachusetts. Black and white photos of macroscopic and microscopic images were sent via microwave transmission for expert consultation.2
Since that time, telepathology has been used in many clinical, research and academic applications and encompasses three primary modes of communication: static "store and forward" systems, dynamic (robotic) systems and hybrid systems incorporating the use of virtual slides.3, 4 With hybrid systems, the slide is typically scanned at a low magnification and forwarded to the pathologist. The pathologist then uses a live telecommunications link to review the regions of interest at a higher magnification.5
With the technical evolution from digital cameras mounted on microscopes to whole slide scanners, the utility of digital images versus glass slides has dramatically increased. Pathologists use these images for publications, research collaborations, teaching and even consultations.
As whole slide scanners improve their throughput, quality and affordability, remote access to these digital images is also evolving. Early communications took place by directly connecting to remote scanners or image platforms via standard telephone lines to view the images. As broadband telecommunication networks have improved and expanded, internet access has become more robust and can better support digital pathology applications.
With today's more sophisticated networks, use of WSI allows the viewing of images using shared servers via transmitting and uploading to a referral center's server, and more recently, through the use of cloud services.6 Applications include providing remote support for fine needle aspiration and frozen section services, consultative services and, where permitted, primary diagnoses. Some hospital laboratories are even making the commitment to move to a 100% digital workflow for their anatomic pathology labs.
Digital pathology technology is advancing at a rapid pace offering solutions to the increasing need for pathology services. Moving to a digital platform allows for consolidation of lab resources, expansion for outreach consultations, and now, the development and application of artificial intelligence algorithms to streamline and assist the pathologist's diagnostic process.
In concert, initiatives utilizing this technology are becoming more and more common to improve accessibility to pathology services worldwide. As laboratories expand their consultation services across a region, the country or the world, digital pathology networks offer improved access to expert subspecialty pathologists whether within a network of community practices or with an "expert" center located anywhere in the world.
This article is the second in a four part series highlighting the evolution of digital pathology and its impact on the access to pathology services throughout the world.
Stay tuned for Part 3: A timeline of global pathology initiatives.
References
1, 2, 6. Farahani N, Riben M, Evans, AJ Pantanowitz, L. International Telepathology: Promises and Pitfalls. Pathobiology. 2016; 83(2-3): 121-6. Epub 2016 Apr 26.
Pantanowitz L, Wiley CA, Demetris A, et al. Experience with multimodality telepathology at the University of Pittsburgh Medical Center.Journal of Pathology Informatics. 2012; 3: 45.
Park S, Parwani AV, Aller RD, Banach L, Becich MJ, Borkenfeld S, Carter AB, Friedman BA, Rojo MG, Georgiou A, Kayser G, Kayser K, Legg M, Naugler C, Sawai T, Weiner H, Winsten D, Pantanowitz L. The history of pathology informatics: A global perspective. Journal of Pathology Informatics. May 30, 2013; 4:7.
Kaplan K, Rao L. (2016) Digital Pathology: Historical Perspectives, Current Concepts & Future Applications. Springer International Publishing. Switzerland. ISBN In: 978-3-319-20378-2