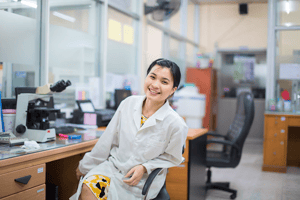 This article is the fourth in a four-part series highlighting the evolution of digital pathology and its impact on the access to pathology services throughout the world. If you missed it you can find Part 1 here, Part 2 here, and Part 3 here.
No matter where they are located, a pathologist's time is at a premium, and managing consultation cases poses a challenge. From a digital perspective, proprietary viewing software and interoperability issues between viewers and information systems can create technical barriers at a local level and are even more limiting for a globally based network.
Accessing and reviewing cases on remote scanners or digital platforms was the early approach for digital consultations. However, this scanner-based access demanded additional time and effort from the individual pathologist. In addition to managing multiple logins and passwords for each client's system, signing into vendor specific devices or portals required knowledge of how to navigate each unique system to locate the images and data needed to perform the consultation.
For an expert center with multiple referral clients, this approach does not scale well. Each platform is limited to the specific scanner's images and does not permit the collection of patient images and related metadata and clinical information. Vendor specific portals don't support whole slide images (WSI) from other vendors due to the proprietary nature of the image formats and associated software.
Further complicating this process is the need to view the images in one system and then report results in a second system such as the expert center's Laboratory Information System (LIS). Once finalized, the report must be transferred back to the client for their review either via fax, courier or postal service. Images and their associated annotations and comments may not be accessible to the referring client. Pathologists need to be able to create their report in a system that can integrate with the clients' and the pathologists' information systems as needed.
To meet this requirement, a digital pathology platform must be able to combine the pathology images and the patient's clinical data without overwhelming the expert laboratory's LIS used for day-to-day operations. The need for a system that can interface with the LIS and issue fast, concise reports for external clients is imperative to ensure smooth and efficient operations. A vendor neutral system allows the management of all consultation cases and their images in one integrated platform.
With multiple clients from different regions of the world, management of a global digital consultation service can also quickly overburden an expert center's resources. In addition, there are logistical obstacles to providing a digital pathology service on an international scale including language, IT infrastructure and regulatory issues.1
With language differences seen as a significant hurdle for international cancer diagnostics, the American Society for Clinical Pathology (ASCP) and the International Consortium on Cancer Reporting (ICCR) are collaborating to develop standardized templates from which, when coded and standardized, diagnostic data can be extracted into datasets that can be translated into Spanish, French and Portuguese. These templates, available in October of 2018, allow access to standardized reporting to large parts of Africa and South America and assisting pathologists in countries with limited resources with more effective communication of pathology results.2
Finally, one of the largest obstacles to providing pathology consultation services at a global level is that countries with limited resources are not able to provide even basic diagnostic services. To that end, the ASCP-led Partners for Cancer Diagnosis and Treatment in Africa is leading an effort to provide rapid cancer diagnostics, care and treatment to these underserved countries. Their first site at the Butaro District Hospital in Rwanda now scans all surgical cases processed in the laboratory. These cases are read digitally by the local pathologist who consults with a team of ASCP volunteers on approximately 10% of the cases.3
As the demand for pathology services continues to increase and the number of pathologists continues to decline, digital pathology technology can play a role in addressing this global need. The investment in diagnostics can pay off even for the most resource strapped countries by reducing long-term costs for more serious illnesses complicated by delayed diagnoses.4
A digital pathology platform that can be interfaced with any whole slide scanner and any laboratory information system is the ideal solution for managing international relationships. With robust workflows in pathology consultations and quality assurance applications, patients anywhere in the world can have access to pathology services at a level never before available.
These international partnerships not only provide diagnostic expertise to underserved regions of the world, but they serve as a resource for education and patient management. A digital platform can serve as an extension of a laboratory's AP-LIS, LIS, or HIS and offers shared viewing of images for remote colleagues, a virtual multi-headed microscope for unlimited participants. Images can also be shared and managed for private research groups whose expertise can be spread world-wide.
Pathologists can view slides and consult with each other anywhere in the world. Additional workflows are configurable based upon the needs of the client and include second opinion consultations, quality assurance reviews and, where permitted, primary diagnoses. In addition to diagnostic workflows, the platform permits the sharing of cases for education and research.
As technology and connectivity improve, global access to digital pathology services will become more widespread, even for countries with limited resources. With improved scanners, standardized diagnostic templates, and integrated scanner and LIS platforms, the challenges of global pathology consultation services are beginning to be met.
Patients all over the world will finally gain access to the best pathology expertise no matter where they are live.
Kaplan K, Rao L. (2016) Digital Pathology: Historical Perspectives, Current Concepts & Future Applications. Springer International Publishing. Switzerland. ISBN In: 978-3-319-20378-2


Milner DA. Cancer in Any Language. Critical Values. September 10, 2018. Volume 11, Issue 4, pp. 32-33. https://academic.oup.com/criticalvalues/article/11/4/32/5094626
ASCP Center for Global Health: https://www.ascp.org/content/get-involved/center-for-global-health/what-we-do
Fleming K, Naidoo M, Wilson M, Flanigan J, Horton S, Kuti M, Looi LM, Price C, Ru K, Ghafur A, Wang J, Lago N. An Essential Pathology Package for Low- and Middle-Income Countries.American Journal of Clinical Pathology. 2017; 147 (1): 15-32.